Expel Phishing
We'll investigate emails your users report as suspicious
Investigation and response for your phishing inbox
(because you've already got enough email)
Good news! Your phishing awareness program is wildly successful. So who's investigating the emails when employees click the "Report as suspicious" button? Expel Managed Phishing cuts the time required to sift through those emails. Our analysts investigate each reported email, tell you when they're real phishes, remove the email from all inboxes, and close the loop with your employees.
Triage
Our analysts review emails sent by your employees to determine if they're malicious or just unwanted spam.
Investigate
When we spot a phishing attempt, we'll connect the dots, tell you what the user did and let you know which users are compromised.
Respond
Finally, we'll provide detailed guidance on incident remediation or use automated remediation to remove malicious email from all affected inboxes
How it works
Your employees send potential phishing emails and we take it from there. Our analysts do all the investigative work and tell you if the email was malicious (and we can automatically send it to the trash). We don't just look at the email. We hook up to your existing tools to scope the impact of the phishing attempt and answer the question "who all clicked on this email?"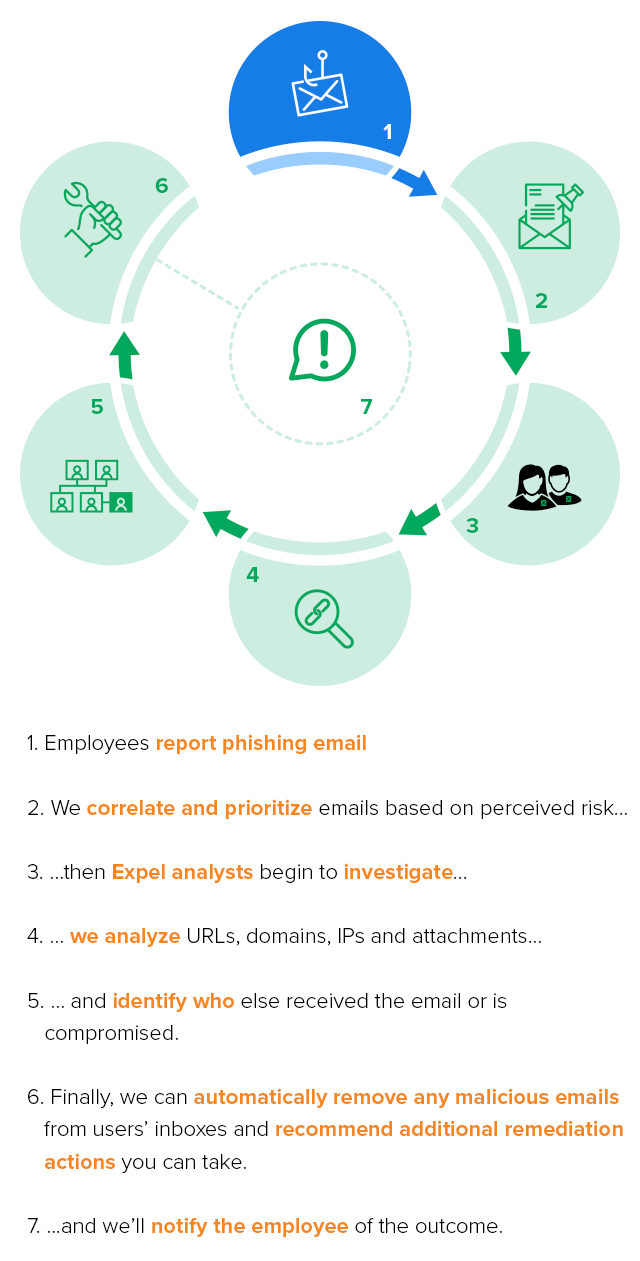 "I feel confident knowing that Expel is reviewing all of our phishing emails.
They feel like a true extension of our team."
— Lori Temples, Vice President of IT Security and Business Continuity
What we look for
(hint: who's been phishing around)
Attackers are crafty. Spotting a phishing email goes well beyond typos and malicious links. Attackers will social engineer your employees to get in and trick them to gather the information they want. We look for malicious signs, show trends in your organization and identify who else may be compromised.
How we compare
Phishing solutions come in different flavors. We complement your existing email prevention, network and endpoint security tools with analysts who can tell you when you've been phished and then dig deeper, to determine what occurred and provide detailed remediation actions for your security team.
Expel Managed Phishing
Mail SOAR solutions
SEG/Email provider
Security awareness and training
Validate if the email is malicious
Determine if the user is compromised
Identify if any other users are compromised
Provide specific steps to remediate
Automated remediation to remove malicious emails
Automated remediation to contain a host
Automated remediation to block bad hashes
Deliver a detailed findings report
Prioritize emails by potential risk
Group similar emails together
Scan incoming messages
Quarantine emails
Run phishing simulations
Deliver phishing awareness training