Why Expel?
With Expel, you won't use old security tech to solve new security problems.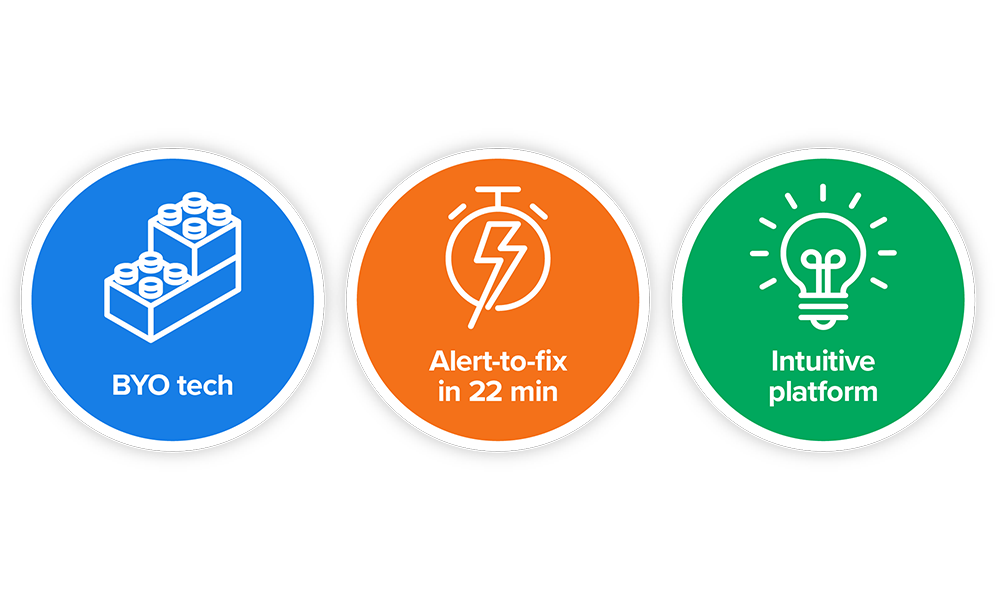 How we're making security make sense.
BYO tech with a rapidly growing list of integrations

Best-in-class tech integrations across on-prem, SaaS, and cloud infrastructure – use both the tech you have now and add later.

A platform that's personalized and extensible

Personalized because it's your environment, business, and risk posture. Extensible because your org is growing and evolving.

The right people + tech combo for automated, fast, and accurate responses

Quality, precise detection and remediation at the speed of today's threat environment.

Cloud forward

Got too many cloud alerts (and false positives)? We're "cloud-fluent" and we can help with that.

Transparent and trusted (NPS Score of 75)

You can depend on us to safeguard your most critical assets. And we show you what we do, so you get it and you get better.
Benefits of Expel
Our "BYO-tech" approach and API integrations get you up and running within hours. You can choose to protect everything–cloud infrastructure, on-prem infrastructure, SaaS apps–or just what you need.
Smaller company? Large enterprise? No SOC? Fully-staffed SOC? We've helped companies of all shapes and sizes minimize business risk. Our technology and people work together to make sense of security signals—with your business context as our foundation—to detect, understand, and fix issues fast.
Our unique MDR approach includes extended detection and response (XDR) capabilities to give you a full picture across your security and business applications. With our SOC analysts chasing down your alerts and responding to incidents 24×7, your team can focus on advancing security strategies unique to your business.
Without Expel, we'd probably need another two or three people on the team, and another shift or two – at an annual cost of about $180,000. By keeping our team small, we can be better stewards of our donations."

⎯Marcus Brown | Infrastructure and security manager
What do industry analysts say about Expel?
610% Return on Investment (ROI)
Economic uncertainty means you're likely being asked to do more with less. Yet, you can't compromise on security.
This Forrester TEI Study outlines the specific benefits of Expel MDR, how it can save you time and money, and exactly where the 610% ROI comes from.
What Expel customers and industry analysts say
When researching possible MDR providers, it's important to dig around and see what others say. Customer relationships are at the core of who we are and what we do. We're born puzzle-solvers and we love dissecting and fixing cybersecurity challenges. One of the things our customers learn fast is that their issue is our issue. Hear from our customers on what it's like to work with us.
Our (growing list of) integrations
No new tech to add. Instead, we help you make the most out of what you've got. You get an integrated view of risk across your IT environment using applications and tech you already have. Add in our custom-built threat detection rules and you get answers. Yep, our 24/7 security operations center (SOC) has you covered.
How do we do this? With an API-first and BYO-tech approach, our integration portfolio supports 100+ integrations across endpoint, SIEM, network, cloud and SaaS applications. You choose the tech you use today and might use in the future. You'll improve ROI and visibility of your existing tech, and prioritize the alerts that matter the most to your business. No. More. Noise.
See everything we do — from alert to fix.
Get a 14-day free trial of Expel MDR for Cloud Infrastructure.