Secure
your cloud(s)
Detection and response tailored to AWS, Azure and GCP
24x7 detection and response for …
Keeping up with what "good" looks like when it comes to chasing down risky activity across your cloud infrastructure providers can be a full-time job.
See how Expel compares to a do-it-yourself (DIY) approach.
Capability
Do it yourself
Monitoring
24x7 detection and response
Whatever you can staff
Cloud skills and talent
We hire, train and motivate a team with cloud-specific skills
You find, hire and retain the team
Analyst playbooks
We develop playbooks, then manage globally and locally
You create and maintain all of these processes
Detection strategy
We tailor detection strategies to each cloud provider
Alert triage
We detect and triage alerts that matter in minutes
Investigations
We chase risky activity down and tell you exactly what to do
Log enrichment
Our bot, Ruxie™, adds context to alerts so we resolve 'em faster
Researching new cloud services
Our detection and response team evaluates new capabilities as cloud providers roll them out
Remediation guidance
We'll tell you what occurred and how to fix the problem
Resilience recommendations
We'll recommend how to prevent recurring incidents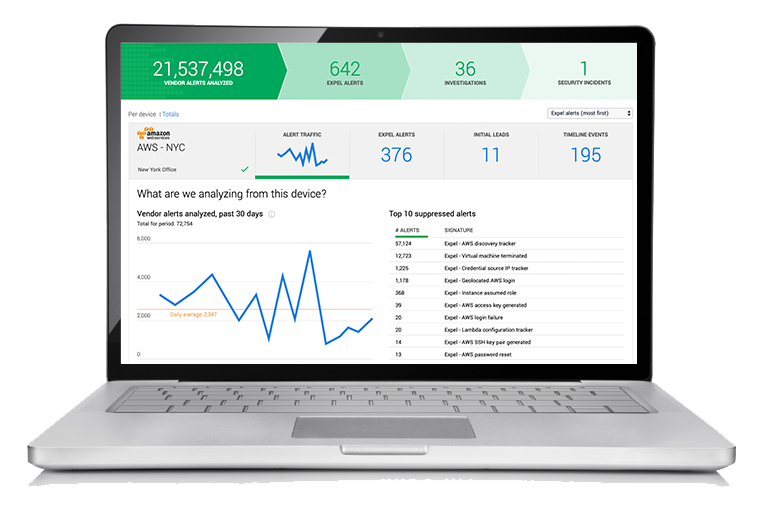 What does 24x7 detection and response for AWS, Azure and GCP include?
Expel ingests your events and log data from AWS, Azure and GCP and enriches it with context that's specific to your environment(s). Then, we continuously look for indicators of attacker behavior.
When something's suspicious, we investigate and tell you what happened and what you need to do about it (in plain English).
Reduce
alert-to-fix time
We'll triage alerts in minutes and respond to most suspicious behavior in less time than it takes to deliver a pizza.
Get an added layer
of cloud security
Our detection and response strategy adds another layer of security and is tailored to each cloud provider.
Free up your
analysts' time
Since we're chasing down your alerts, your team can focus on security risks unique to your business.
Fix the
root cause
We package up details on recurring events, tell you how to fix them and the business impact.