Product Tour
Expel MDR for Cloud Infrastructure
Explore. Scrutinize. Scope it out.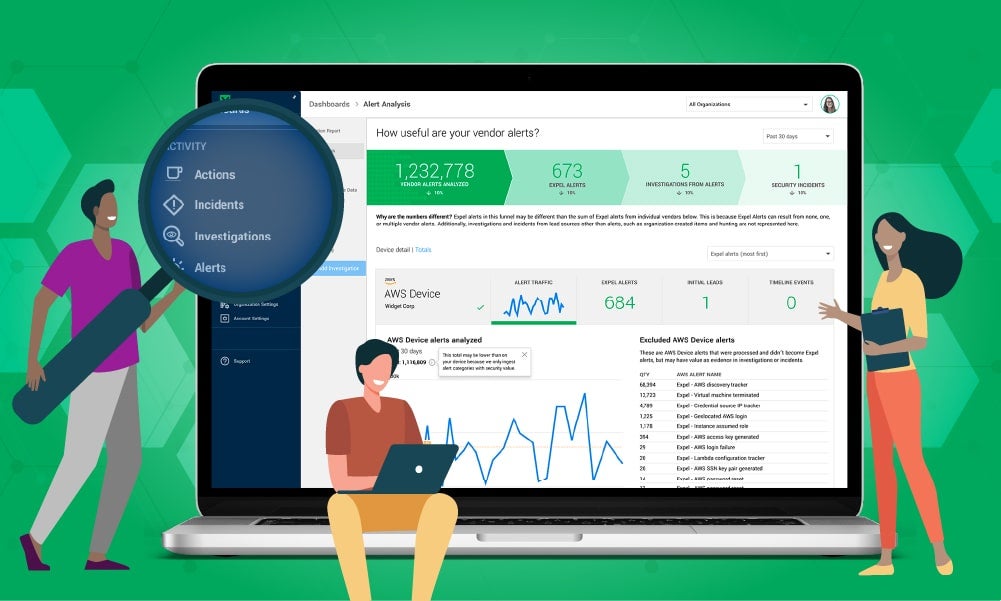 Cloud detection, response, and remediation
Running one or multiple cloud environments? Managing all your cloud service provider alerts can be …. challenging. You need a way to prioritize alerts, filter out noise, and resolve incidents — fast.
Expel MDR for Cloud Infrastructure provides 24/7 cloud monitoring, augmenting your existing cloud vendor capabilities, with cloud-specific detections, giving you comprehensive coverage of attacker behaviors.
In this tour, you'll follow the lifecycle of an Amazon Web Service (AWS) cloud alert so you can see how this works.
How Expel MDR for Cloud Infrastructure optimizes your investments
Accelerated cloud security operations
Expel's platform provides the people and technology that filters out noise and adds context to each cloud alert, so you know which cloud alerts matter most and can resolve them faster.
Cloud expertise
Leverage our expertise in Amazon Web Services (AWS), Microsoft Azure, Google Cloud Platform (GCP), as well as Amazon Elastic Kubernetes Service (EKS) and Google Kubernetes Engine (GKE) infrastructure to alleviate your team's workload.
Expel cloud detections
We boost your cloud vendor detection capabilities with Expel-written detection rules, which detect 98% of the cloud incidents in our SOC.
Out-of-the-box cloud detection and response strategy
Expel can help you create a detection and response strategy so you don't have to hold up your cloud migration.
Expel was the only vendor we evaluated that wrote its own meaningful cloud detections, and weren't just a proxy for GuardDuty. Every other vendor we met with said they could manage our cloud alerts, but Expel was the only one that could back up its claims. Coupled with the right mix of integrations and an unmatched operational transparency, we quickly realized Expel was the ideal partner. "

⎯Brian Cenker | Director of Network & Security
We'd be looking at lag times of hours, even days, before we might detect something...We went from everything on-premise with an SD-WAN to connect with the chapters, to a hybrid cloud environment, basically overnight."

⎯Bret Babula | Security Specialist, Make-a-Wish Foundation
Ready to take the next steps with Expel MDR for Cloud Infrastructure?
When you tell us you're ready, we won't waste your time.