Expel Vulnerability Prioritization


Remove noise from your vulnerability management process

Vulnerability prioritization identifies the vulnerabilities that pose the greatest risk, so you can fix them faster.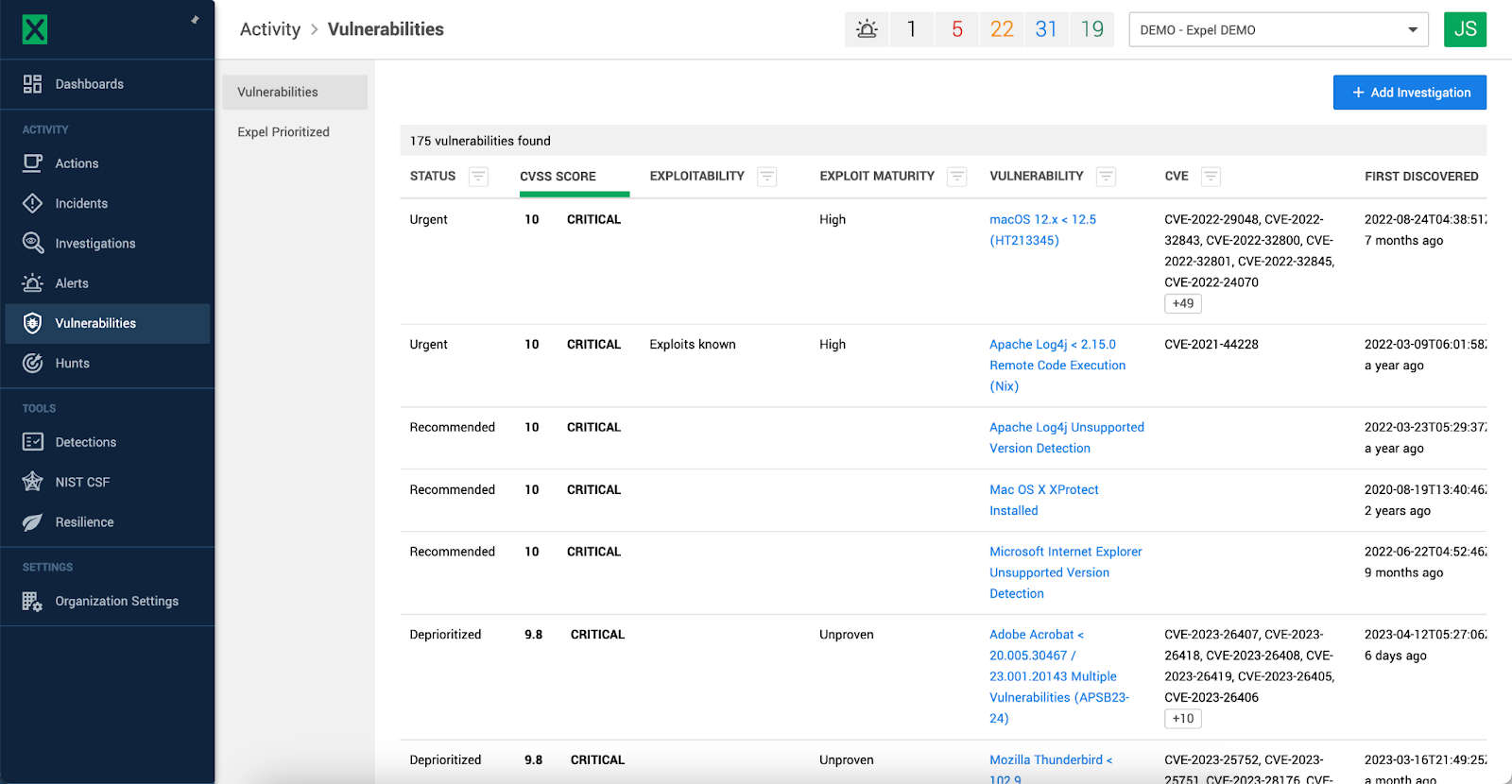 How we help
We do the triage, you do the patching
Our risk-based prioritization is informed by your unique environment to quickly identify the most critical and‌ damaging vulnerabilities. Our team notifies of urgent vulnerabilities as we find them, and provides regular reports with remediation guidance that's easily shared across teams.
How Expel is different
Reduce the burden on your SecOps team
We do the work for you, by connecting the dots between your vulnerability scanner data and your MDR environment against external threat intel and what's being exploited in the wild. You get a prioritized list of vulnerabilities with recommendations on next steps for immediate action.
Connect your own tech
We integrate with your existing Tenable or Rapid7 scanner to understand your vulnerability landscape; no need to set up new technology, no lengthy onboarding.
Improve visibility and decision-making
You'll receive investigation support, prescriptive guidance, and shareable reports to ensure stakeholder alignment. With our MDR as an added input, we can even inform you of real-world exploits that your scanner hasn't identified yet!
Strengthen detection and response
Improve your threat detection and response with clear traceability across your environment with context on which machines are impacted and which are at risk.
What you get
Vulnerability Prioritization
Integration with the scanner technology you're invested in, whether it's Tenable or Rapid7 with more to come!
Vulnerabilities prioritized by potential risk to take the lengthy investigation process off your team's workload and to help you focus on closing the gaps.
A dedicated vulnerability team that uses our prioritization model and evaluation criteria to quickly identify and inform you of vulnerabilities that should be prioritized.
Visibility across your environment by aligning vulnerability risk and upfront prevention with your detection and response process, all in one place.
Detailed vulnerability guidance from Expel Workbench focusing on next steps you can take to remediate.