We believe transparency builds trust
(especially when things go off script)
What we believe
Marketing fluff is tedious.
We think these four beliefs set Expel apart from others. But you'll ultimately be the judge of that :-).
Freedom
Turning the service on (or off) should take hours … not days or weeks. And when you leave, your provider shouldn't hold your data hostage.
We'll let you take us for a test drive to experience the service before you buy. And unplugging us is as easy as signing up.

7 hours
Average tech onboarding time

< 1 week
Alerts tuned for your environment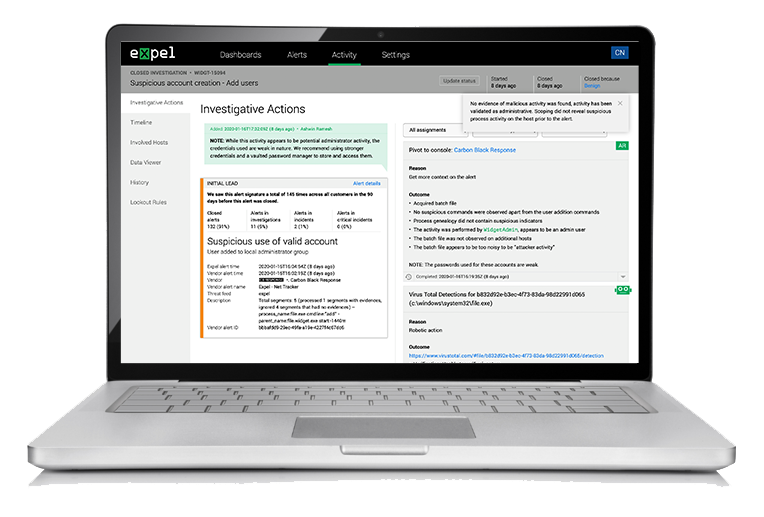 Transparency
You should be in control. That starts with seeing what our analysts are doing. You'll know immediately when we kick off an investigation. We show you our work, we welcome feedback and you can see everything we're doing as we do it — not later.
Answers
Our job is to investigate and tell you how to fix incidents or, in some cases, we can fix it for you. We don't just toss alerts back over the wall.
As we learn about your business, we'll tailor our detection and response strategy for data and users that require special TLC.
Technology
Humans are best at judgement and relationships. Technology should automate everything else.
Our analysts can deliver more thorough analysis and detailed recommendations because we invest in tech to automate routine investigative tasks.
How we compare
(yes … we can replace your MSSP and MDR spend)
We think MSSPs have reached the ceiling of the value they can provide. They've repeatedly disappointed customers and taught them to expect less by taking a transactional, one-size-fits-all approach, managing to their SLA and prioritizing the quantity of alerts over quality of service. MDRs have emerged to fill the gap, but most ignore the security investments you've made and toss alerts back at you without telling you why.
Capability
MSSP
MDR
Thorough investigations with detailed timelines and related artifacts
Alerts enhanced and prioritized with business context
Transparent view into analyst activities via rich portal experience
Resilience recommendations to address root cause of repeat incidents
Advanced data analytics to reduce false positives
Remediation guidance
Automated remediation actions
Incident validation and notification
Event/alert triage performed by an analyst
Proactive threat hunting
Advanced threat detection
Ability to use existing security stack (vs. vendor-mandated tech)
24x7 monitoring by a staffed security operations center (SOC)
Automated alert processing
Security device monitoring
Log data analysis
Log data collection and storage
Vulnerability management
Security device management (firewall, SIEM, etc.)
Ready to talk to a human?
When you tell us you're ready, we won't waste your time. Let us know what you're looking for and we'll have someone get in touch who can talk tech.