Talent · 3 MIN READ · BROOKE MCCLARY AND NEIKO LAMPKIN · APR 7, 2023 · TAGS:

Careers

/

Company news
We never pass up the opportunity to celebrate women at Expel, and Women's History Month in March is one of our favorite times of the year to do just that.
We're pretty proud of our employee resource groups (ERGs) at Expel—which include BOLD (our ERG for Black Expletives and allies), The Treehouse (our LGBTQIA+ and allies), The Connection (for supporting each others' mental health), and WE (the Women of Expel and allies).
Founded in 2018, WE was Expel's first ERG, and we've since reorganized and expanded to capture the spirit of the crew that's helping to power, scale, shape, and drive the company to ever-greater heights.
This year's WE Women's History Month programming centered on the interconnectivity between all our ERGs and focused on how we can elevate each other, both in March and year-round.
Here's a quick recap.
WE heard—and learned—from Dr. Kumea Shorter-Gooden.
Early in the month, our WE and BOLD ERGs co-hosted an engaging discussion led by Dr. Kumea Shorter-Gooden, co-author of Shifting: The Double Lives of Black Women in America.
Dr. Shorter-Gooden's session, "Doing Double Duty: Black Women in the World of Work," addressed common ways Black women are forced to "shift" as a response to racial and gender bias in the workplace. Dr. Shorter-Gooden acknowledged that Black women's mistakes are often hyper-visible, yet successes are invisible; this is a vexing challenge that's near-impossible to navigate. She offered advice on how allies can show up for Black women and others with marginalized identities, and attendees left with a better understanding of the lived experiences of our fellow Expletives.
WE highlighted badass change-makers from the past 25 years.
Each week, we celebrated a woman from recent history who forged a path for herself and others, with each spotlight focusing on someone representing one of our ERGs.
The list included:
WE spotlighted the women of Expel who make a big impact, every day.
We also took some time to recognize and celebrate each other with daily Slack spotlights the on women Expletives who make a big impact across our organization. Our own Nicole Jouvelakas, Director, Growth Marketing, collected survey responses from anyone interested in submitting across the entire organization.
And the results were inspiring.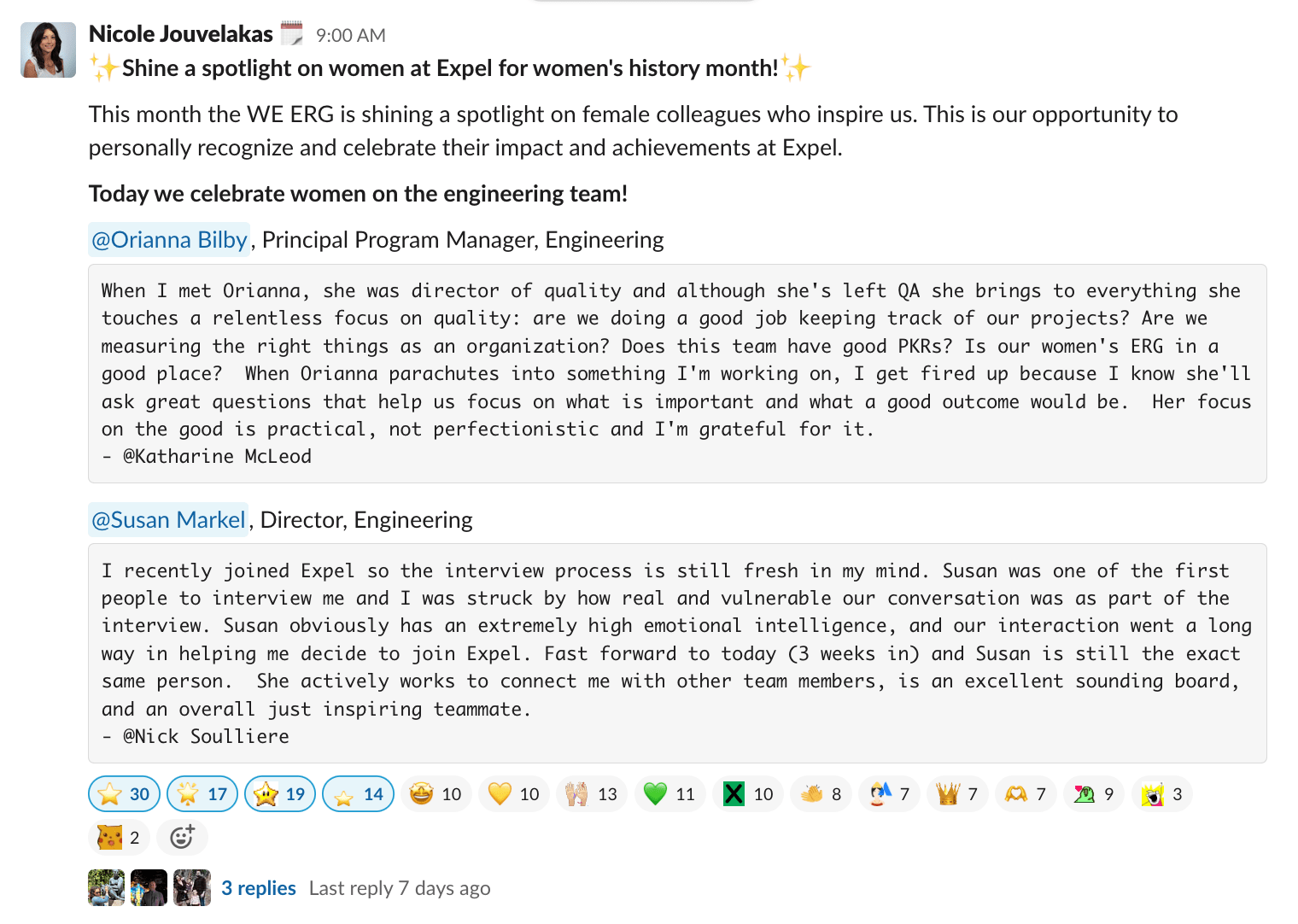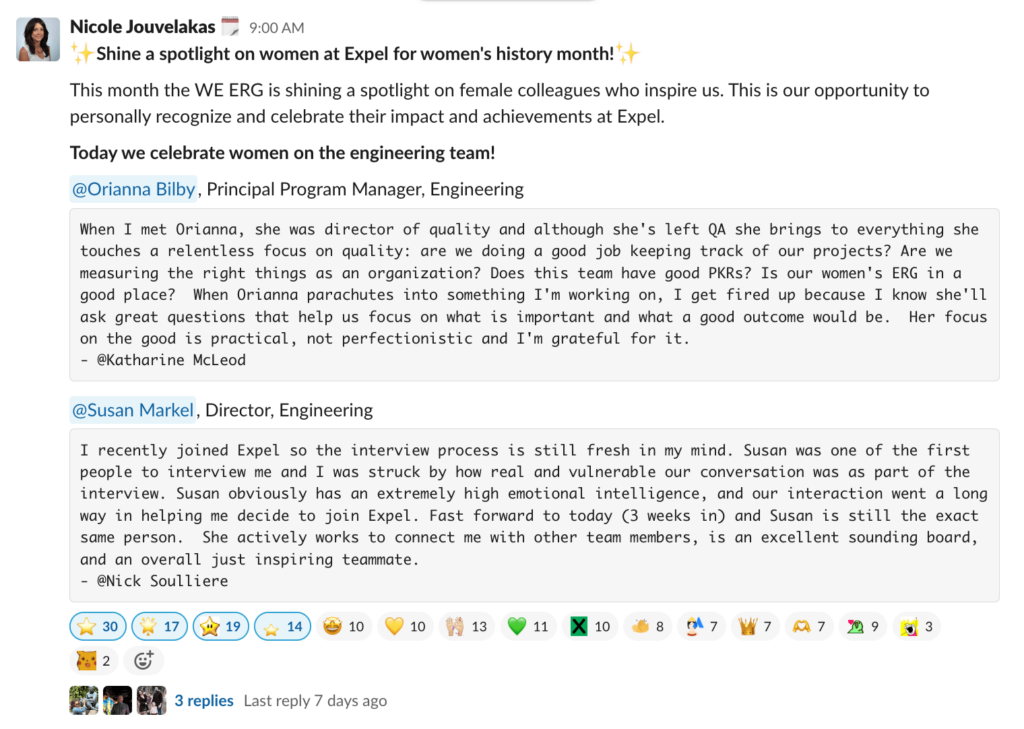 Why did we do this? Because when we lift each other up, we all benefit.
We also heard from Tina Velez, Manager, Solution Architecture, in our LnL (Live 'n' Learn) series, where she walked us through each of her career stops. This riveting discussion, which she called "I love fire," focused on the challenges she faced working in male-dominated fields and, most importantly, how she overcame the headwinds to succeed every time.
WE visited Sweetbriar College for an important Women in Tech Panel.
On March 30, members of our WE ERG took a short road trip to Sweetbriar College to host a Women In Tech Panel showcasing what it's like to work in tech, and the variety of roles within the tech space (in fewer words: you don't have to be an engineer to work in tech).
Sweetbriar has one of only two (Accreditation Board for Engineering and Technology) ABET-accredited engineering programs at women's colleges in the United States.
WE participated in InHerSight's Women's History Month campaign.
InHerSight—an anonymous platform measuring how well companies support women employees—used March to highlight some of the amazing women at its partner companies. They asked "women to tell [them] why they're proud of their background or how their identity influences how they show up, whether for work or life." Expel's Orianna Bilby, Principal Program Manager, Engineering, answered the call, resulting in this LinkedIn feature.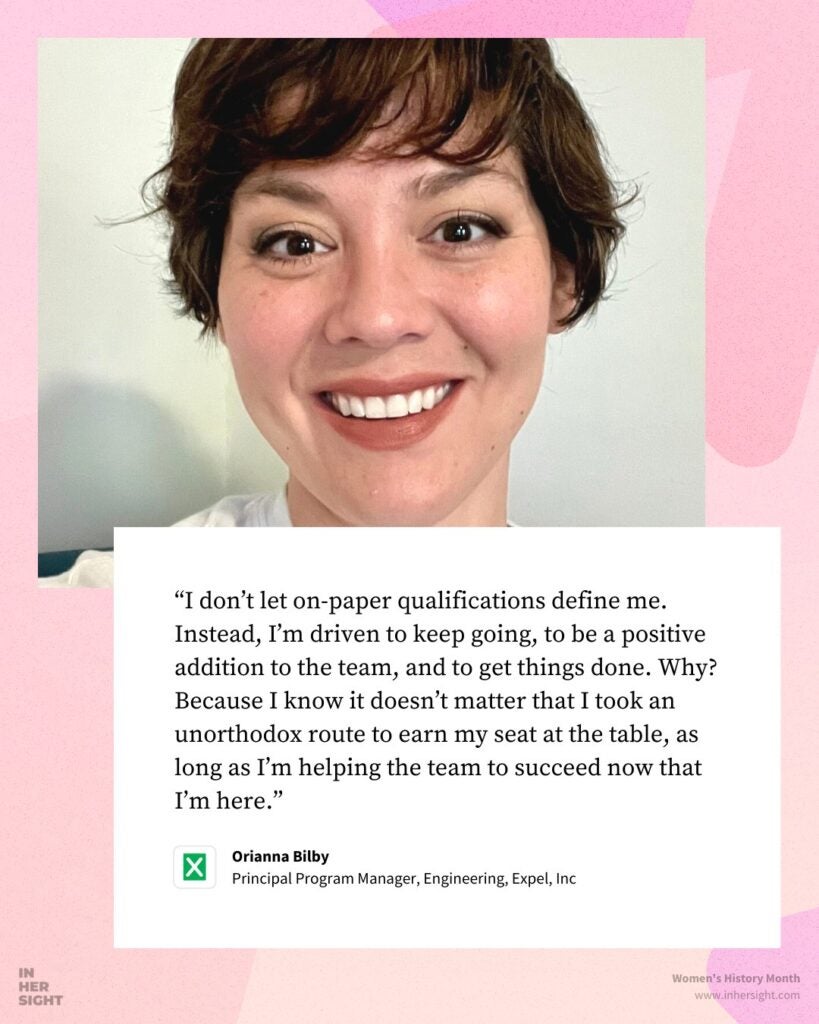 WE explored the intersectionality of women's stories with those of other marginalized groups.
First, BOLD's monthly discussion centered on Centering Black Muslim Women during Women's History Month and Ramadan. Attendees spent time Listening to the Stories of Black Muslim Women and discussed ways to be mindful of women's experiences, the role intersectionality plays in the unique experiences of women that belong to additional marginalized groups, and our own personal experiences with holding those within our circles accountable in our fight for a just, equitable, and inclusive society for women.
Then the monthly Treehouse session considered the Divine Feminine. This open dialogue revolved around defining the concept, how members personally connect with it, and how it affects social and political spaces.
Like we said up top, we never pass up the opportunity to celebrate women at Expel—and that won't stop after March. Keep an eye on our socials (@ExpelSecurity) throughout the year as we periodically highlight our women colleagues, and check out our equity, inclusion, and diversity (EID) page to learn more about our ERGs.