Get out of bed. Check. Grab a cup of coffee or tea or pumpkin spice latte (no judgement). Check. Register (and ideally, ignore) what's going on in the world today. Check. Feels good, doesn't it? Not what's going on in the world because #obvi, but the ability to "check-off" something that you've done and accomplished. Over at Expel, we thought so too. That's why we've introduced checkbox functionality to our remediation actions. Read on to learn more. Check!
Highlights
New enhancements to remediation actions
We've made a number of performance and behavior improvements to our remediation actions with the most visible and notable changes happening to the "Reset credentials" and "Remove inbox rules for known compromised accounts" remediation actions. Now, when you complete these actions, you can click the checkboxes to indicate that the necessary steps have been completed. Once all checkboxes have been addressed, the action will automatically be marked as complete in Expel Workbench™.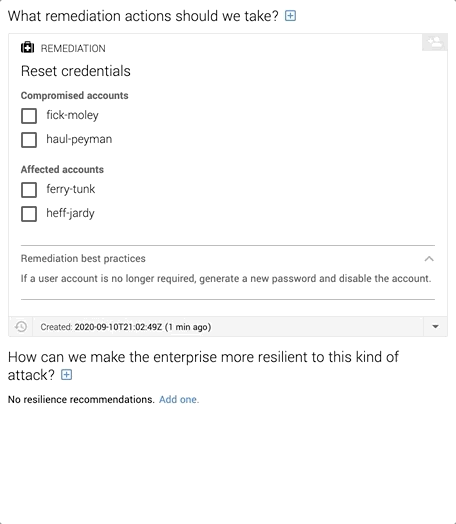 Other enhancements
We added a link to our Workbench Privacy Policy which can be found by navigating to the Settings page in Workbench and by clicking the My Organizations tab. Now, the policy is easily accessible for all users in Workbench.
We made wording and behavior improvements to the TL;DR findings section.
We improved the display of certain JSON raw logs in the Workbench alert details to make the information more readable.
We made styling improvements to the process tree display in Workbench.
Other fixes (plus a few odds and ends)
We fixed a backend issue that would sometimes disable users from locking and unlocking Workbench accounts through the UI.
We fixed an issue that briefly disabled downloading NIST scores from Workbench.
We fixed an issue where investigative actions wouldn't display the action title when using the "Preview" feature.
We fixed a situation in which users were unable to deselect certain checkboxes in Workbench.
We fixed behavior issues with links in our API docs.
We fixed behavior issues with the custom date range selector on the Situation Report dashboard.
We fixed remediation action behavioral issues that would sometimes result in unintentional creation of remediation actions while the actions were being edited.
We fixed text wrapping and display issues on the Resilience dashboard.