We're starting the new year with new integrations! We now integrate with ServiceNow and JIRA ticketing systems. You can add this new integration into your workflow from your My Organization page. When Expel assigns a remediation action to your organization, you'll receive a ticket from your ticketing system.
Highlights
Ticketing Integration
We've added two new ticketing integrations. If you use ServiceNow or JIRA as your ticketing systems, you can configure this integration from the My Organization page in Workbench. Once the configuration is complete, Workbench will create a ticket in the selected ticketing systems for all remediation actions assigned to your organization.
We're working on adding more ticketing integrations. If you have a ticketing system not mentioned above, let your engagement manager know.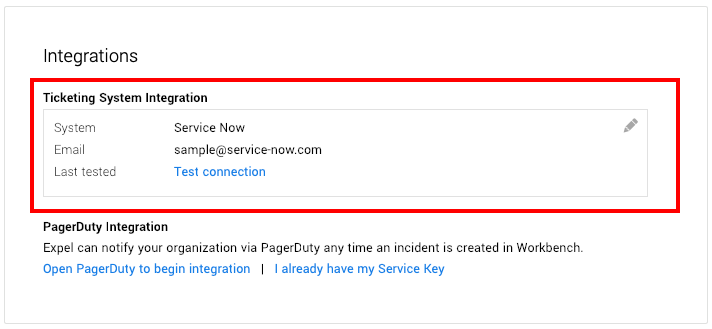 Other Enhancements
We've added a custom date range picker to the Alert Analysis dashboard. Now you can grab data from the last month or quarter for internal reporting.
Other fixes (and a few odds and ends)
We updated some copy issues.
We noticed the ability to sort by incidents from the Alerts page would return investigations as well. We've made changes to more accurately display the filter results.
Configuring organization notifications would not accurately reflect changes made by Workbench users. We've updated it to reflect changes in real time.
We fixed issues with our custom date range filter on the Data Viewer page that would set custom date ranges an hour behind the intended time range.
We updated the "What we're alerting on" table on the Alert Analysis dashboard to display alerts in descending order of frequency correctly.
The Alert Details popover exhibited poor display behavior for mobile users, but this issue has been resolved.
It appeared that some security incident emails were time traveling and displaying a date too far in the past. We've corrected the issue and brought them back to the present.
We improved the experience when navigating to links using mobile devices.
We fixed a sticky popover issue on our Alerts page.
We fixed an issue that caused some vendor devices on the Alert Analysis dashboard to appear to have zero traffic.