Security that makes sense.
™

Our unique BYO-tech approach & API integrations.

We make security easy to understand, easy to use and easy to continuously improve.
Managed Security Services
Expel helps companies of all shapes and sizes minimize business risk. Our technology and people work together to make sense of security signals — with your business in mind — to detect, understand, and fix issues fast. Expel offers managed detection and response (MDR), phishing, and threat hunting. Our "BYO-tech" approach and API integrations get you up and running within hours. You can choose to protect everything – cloud infrastructure, on-prem infrastructure, SaaS apps – or just what you need. This unique MDR approach includes extended detection and response (XDR) capabilities to give you a full picture across your security and business applications. With our SOC analysts chasing down your alerts and responding to incidents 24x7, your team can focus on advancing security strategies unique to your business.
Expel MDR
Customized solutions to protect your entire organization. Choose all or just what you need for your business.
Cloud Infrastructure (AWS, Azure, GCP)
On-Prem Infrastructure (EDR, Network, SIEM)
SaaS apps (Microsoft O365, Okta, etc.)
Expel Phishing
We'll investigate emails your users report as suspicious and help contain malicious attacks.
Automated triage of employee-reported phishing emails
A detailed findings report with remediation actions
Metrics to see what's happening in your environment
Threat Hunting

Add-on
Expand on MDR to proactively hunt for unexpected activity and fill your blind spots.
Threat hunts performed by experienced analyst
Hunt techniques aligned to your unique risks
Clear guidance on what to improve to protect your org
4 core beliefs that set us apart from others
We think these four beliefs set Expel apart from others. But you'll ultimately be the judge of that :-).
Freedom
Turning the service on (or off) should take hours … not days or weeks. And when you leave, your provider shouldn't hold your data hostage.
We'll let you take us for a test drive to experience the service before you buy. And unplugging us is as easy as signing up.

7 hours
Average tech onboarding time

< 1 week
Alerts tuned for your environment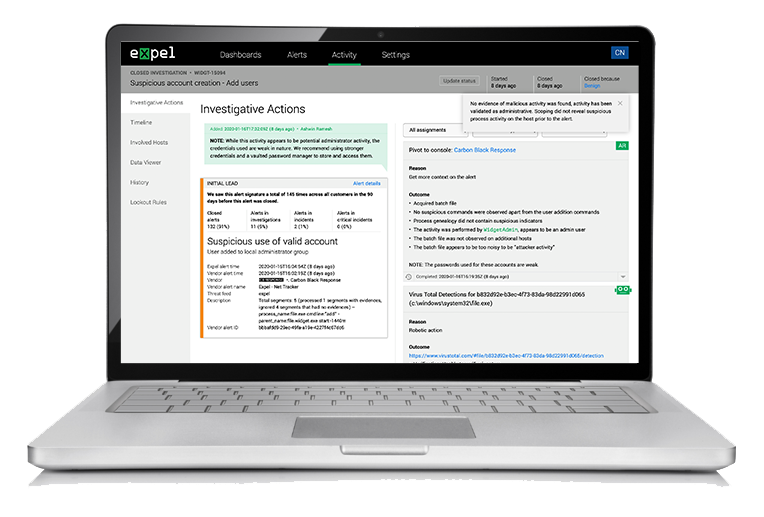 Transparency
You should be in control. That starts with seeing what our analysts are doing. You'll know immediately when we kick off an investigation. We show you our work, we welcome feedback and you can see everything we're doing as we do it — not later.
Answers and Outcomes
Our job is to investigate and tell you how to fix incidents or, in some cases, we can fix it for you. We don't just toss alerts back over the wall.
As we learn about your business, we'll tailor our detection and response strategy for data and users that require special TLC.
Technology
Humans are best at judgement and relationships. Technology should automate everything else.
Our analysts can deliver more thorough analysis and detailed recommendations because we invest in tech to automate routine investigative tasks.