ECONOMIC VALIDATION REPORT
New Enterprise Strategy Group (ESG) report: protect your business and realize an annual ROI of 254%* with Expel
Considering building your own detection and response function? Discover how Expel could save you time, money, and energy in this report.
Deciding whether to build or buy is the evergreen question for organizations that are solving business challenges. For example, is outsourcing your detection and response operations worth the cost? Would a fully in-house approach be easier?
The reality is, finding and hiring the right security talent, onboarding and integrating the necessary tech, plus analyzing all that data, will take a year or more. On top of that–here's the kicker—it tends to cost more than you thought. When the dust finally settles…
"According to ESG research, 34% of IT organizations agree that their biggest security operations challenge is that their cybersecurity team spends most of their time addressing high-priority or emergency issues and not enough time on strategy and process improvement." – Analyzing the Economic Benefits of Expel's Managed Detection and Response Services.
Choosing to augment your security team–or to outsource managed detection and response–with Expel's services, instead of relying on the DIY approach, creates cost savings, enhanced protection, streamlined ops (less burned out teams), and reduced risk. Check out ESG's recent report to see the numbers to prove it.
Download the ESG Economic Validation Report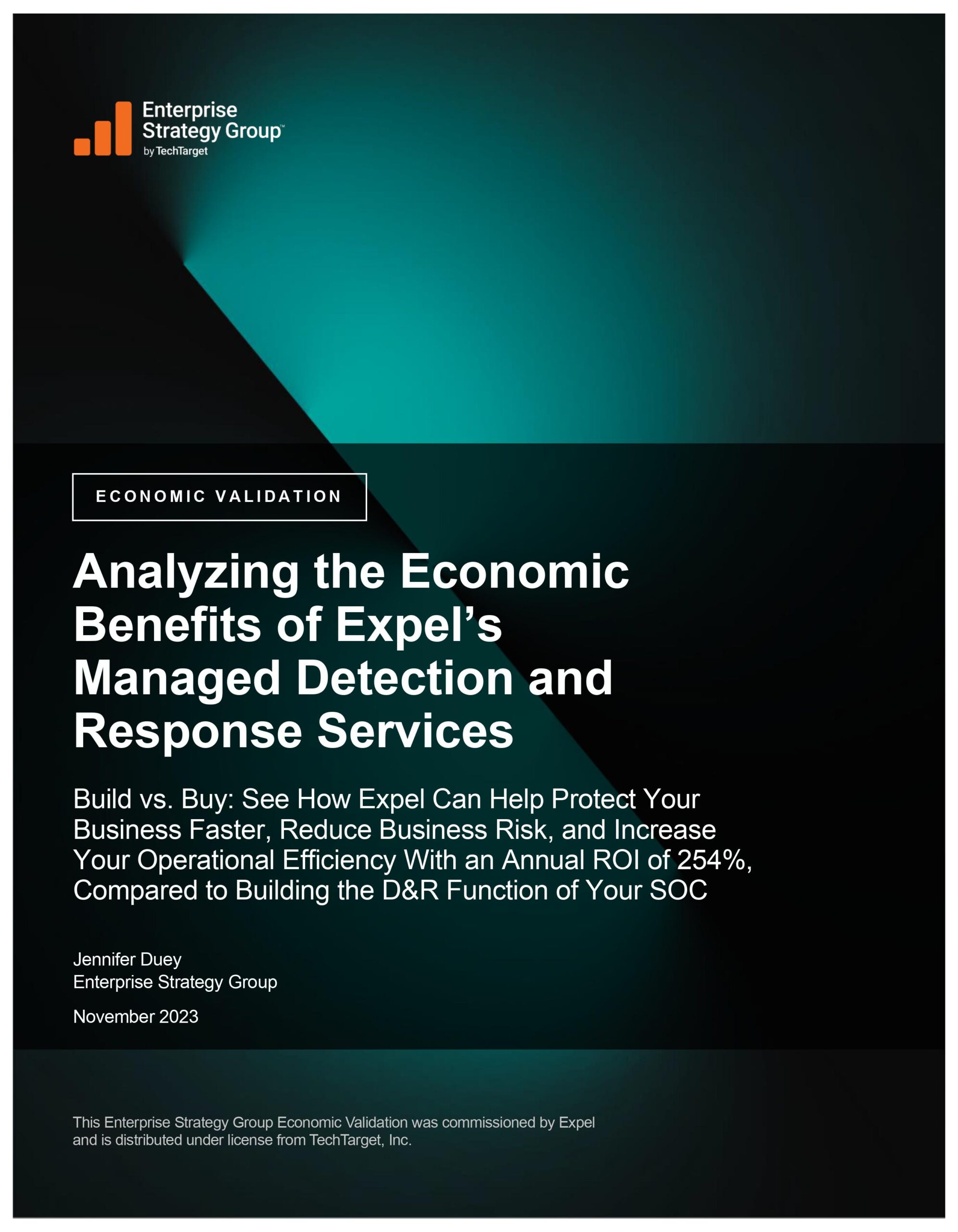 What's in the new ESG report?
Here's a sneak peek of what ESG calculated. With Expel, your org can:
Save two years of implementation time and 80% of your IT budget
Reduce risk by 5-15%

Reduce 90% of noise

Realize a 254% ROI over one year*
Get a copy of the full report to explore all the calculations and benefits of Expel's MDR offering.
*"While Enterprise Strategy Group (ESG)'s models are built in good faith upon conservative, credible, and validated assumptions, no single modeled scenario will ever represent every potential environment. The costs and benefits received from using Expel Managed Detection and Response services will depend on the details of an organization's requirements and practices. ESG recommends that organizations perform their own analysis of available products and consult with their Expel representative to understand and discuss the differences between the solutions through their own proof-of-concept testing."