Historically, managed detection and response (MDR) service providers have one major flaw that's overlooked – the level of effort required to turn on the service.
In an industry where every minute counts, we don't have time to waste.
Yet the onboarding process is so complicated you need project managers on both sides to manage the implementation. You have to navigate through pages and pages of complicated instructions to connect everything together. And it probably requires additional hardware, VMs with gigantic specs or another agent to deploy. The daily and weekly project status calls can last six months or longer. It's time consuming, expensive, and the level of effort is always underestimated.
Sound familiar?
When selecting any service provider, the initial setup, integration and activation should be an important factor in the decision-making process. Often, integrations take time and resources which lead to hidden expenses.
We refuse to be that provider.
Our development team vowed to make getting started with Expel as easy as joining a wireless network. The Expel Workbench™ makes onboarding simple by connecting tech using APIs (not agents). Our platform has an easy-to-follow interface and provides step-by-step guides for each technology.
And we're continuously improving the process to save you more time – even if it's going from 30 down to five minutes. We've learned that you really can have an easy button that gets services up and running in a matter of minutes with very little effort. So close that project plan and re-assign the project manager.
Want to say goodbye to frustrating project plans and get a return on your investment immediately? You can.
Just make sure that as you're evaluating MDR providers, you ask the right questions. And also make sure you get the right answers.
We often talk about how we're transparent here at Expel. This blog post is an example of that. In this post, we'll share our responses to the top questions you should ask MDR providers to help you better understand how they'll integrate with your tech and start monitoring.
Can I onboard myself?
Yes, please!
Using the Expel Workbench, you can add, remove and edit devices whenever you wish. Although we have dedicated onboarding engineers ready to help with any support or questions, we purposely designed the Expel Workbench for easy self-onboarding.
When can I start the onboarding process?
Imagine you have a new TV provider. You've agreed to start your contract with them on June 1. On June 1, they call you and ask, "So, what channels do you want? Where should we ship the box?"
That would be annoying, right? You want to watch TV on the day you start paying, not wait until then to start the process of getting it up and running.
We strongly believe in doing everything possible to provide service from day one. That's why we give our customers all the information and access that they need well in advance.
At Expel, our MDR customers receive:
Step-by-step guides for each of your technologies. You can get all the details on the things you need to do on your side. Whether it's user account creation, firewall changes or amending access right, you'll find everything at support.expel.io — at any time.
Expel Workbench access. We create your access accounts for the Expel Workbench so that you can start getting familiar with the interface and adding your team accounts, PagerDuty configurations, and any service desk integrations.
Integration. As soon as you have Workbench access, you can start integrating your technologies. Not only does this allow you to do lean ahead work, but also allows our SOC team to start evaluating the signal, learning your environment and tuning alerts so that when we hit the switch on day one, you only get the alerts you really care about.
Slack channel and support portal access. Talk to your Expel team whenever you need help. Initially, you might have questions about onboarding or navigating Workbench. Just send us a message in our portal or in Slack, and we'll be right there to help.
What does the onboarding interface look like?
Adding a cloud service into your Expel Workbench, like AWS CloudTrail, is simple with our automated wizard.
Check out this short video to see how it works.
And that's it! You're now fully onboarded and we're monitoring your environment.
Can I add, edit or update integrations myself?
All tech integrations are entirely in your control. You can easily add, remove and edit whenever you wish. This is not only beneficial for onboarding new techs, but we may also notify you automatically if credentials are not working or access permissions have been changed. These things can also be corrected right inside Workbench.
Do you have documentation to help me do that?
All of our onboarding support documentation is publicly available.
We have a dedicated guide for each technology that details (step-by-step) the best way to configure your tech and how to add this information into your Workbench account. Having our integration guides publicly available allows Expel customers to understand any integration requirements ahead of time, so you can start planning and creating any user/API credentials in accordance with your internal change control requirements.
What if I need help?
We have a dedicated onboarding support team on hand to help you if you run into issues. We can help with both technical onboarding issues and can also verify the integrity of the data your tech is sending us. We also have automated health checks to ensure your device is sending us all of the glorious data our analysts love to ingest.
When onboarding a new service of any kind, the process to get up and running is often an afterthought. When this happens, it causes stress and frustration for you and your team and typically starts the relationship with the vendor off on the wrong foot. It's important that you and your teams completely understand the onboarding requirements, both from a cost perspective (are there hidden costs because you need prerequisite equipment or services?) and a resource perspective.
Your Expel engagement manager will make sure you understand the level of effort that's required from your teams behind the scenes. For example, how much time is needed to complete the connectivity requirements? And if the environment changes or permissions changes are needed, what are your internal change control requirements and how can your provider help to plan for these?
As one of your critical partners in keeping your org safe, your MDR provider should help you understand how to best work with them and set you up for success before day one.
What happens after onboarding?
The Expel Workbench is designed and developed in-house with a big focus on user experience from conception. We work hard so that service activation is as simple and easy as possible.
Remember: onboarding can and should be a painless process. As I mentioned, we provide simple step-by-step online guides for you to follow to configure your tech. And the output of these can easily be copied and pasted into secure fields within your Expel Workbench account.
And we don't stop there.
We're continually improving our integration technologies to include automated wizards between Expel Workbench and your cloud tech, making our integrations amazingly quick, easy, and seamless!
Once onboarding is complete, we love getting feedback on how we can improve the experience. We invite our users to complete a quick, two-question survey after they finish onboarding.
So, how's it going so far?
Here's what some of our customers are saying: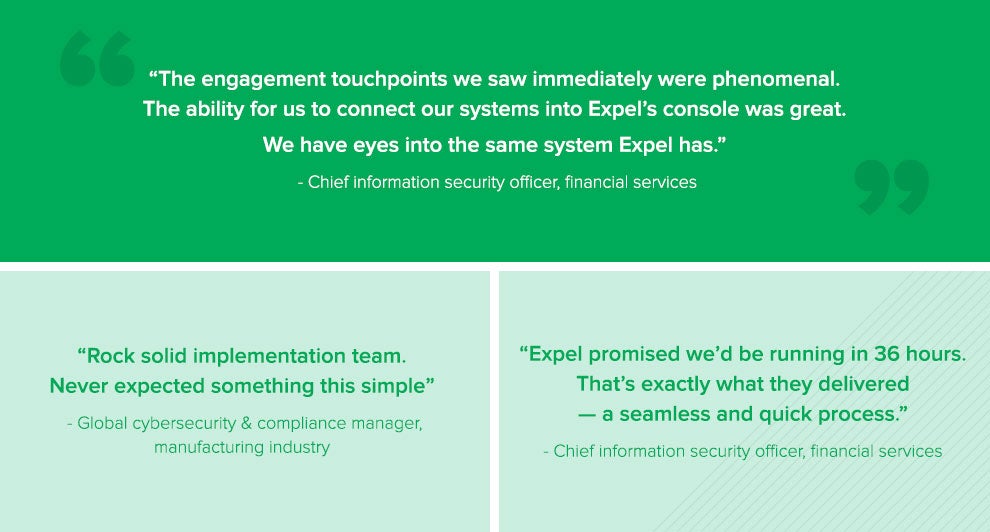 Want to learn more about how Expel does onboarding? Let's chat! (yes – we'll connect you with a real human. Although our bots are great conversationalists.)