Extra, extra! Read all about it! This month was all about notification updates, as we improved messaging around security device health and PagerDuty capabilities. Read what made the front page below:
Improved device health messaging!
Flu season is here, and we've made improvements to let you know when your device is under the weather. Our device health messaging now includes:
"Next steps" to our email and Slack notifications to help you self-service the device health issue
Our contact info, so if you're having trouble restoring device health, it's easy to reach us
We've also fixed a bug that surfaced blank statuses in the Workbench Security Devices grid for devices that didn't have health check support. And to top it all off, we updated the Status filter on the Security Devices grid to allow you to filter on the "Not supported" status instead of the "Needs configuration" status.
PagerDuty notifications for investigative and remediation actions
Drum roll, please! We've added two new capabilities to our PagerDuty integration. Now, you can receive a notification whenever an investigative or remediation action has been assigned to your organization.
To start receiving notifications, login as an admin, navigate to the Settings page and click the My Organization tab. If you already have PagerDuty configured, you can click the "Edit Notifications" button to opt-in to be notified. If you'd like to start to receive these notifications, head to the "Integrations" section at the bottom of the page and follow the setup instructions.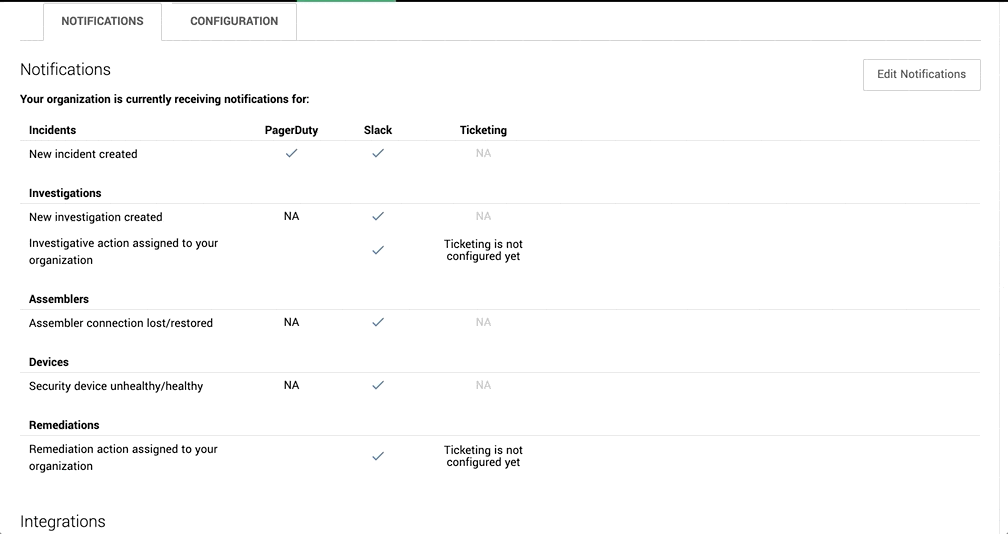 Other Enhancements
Safety first. We've disabled hyperlinks in all email and Slack notifications. You'll still be able to click on Workbench links that take you to the investigation or incident, but all other links are now disabled.
We've improved our Slack and email notifications when you create an incident or investigation. The initial lead field will display an "Organization reported" tag. We also fixed the issue where "Next steps" was being displayed instead of the title of the investigative action.
We made minor style and wording adjustments to Workbench timestamps.
Other fixes (and a few odds and ends)
Let's try this one more time. In our last release notes, we mentioned some color changes to Findings and Remediation pie charts in Workbench. Well, at least we thought we did. Soon after, we realized that some remediation action pie charts would appear green in Workbench if they weren't complete. We've fixed this bug, and you'll now have the satisfaction of seeing completed items all in green.