Expel insider · 2 MIN READ · NEIKO LAMPKIN · MAR 8, 2023 · TAGS:

Careers

/

Company news
The cybersecurity industry has an unfortunate reputation for lacking diversity. But we at Expel are out to change that, because we know we're better when different. We like to say that we're a stronger organization when we recognize, celebrate and learn from those whose backgrounds and perspectives are different from our own. To support that focus on diversity, Expel has a number of employee resource groups (ERGs) that nurture and bolster various communities of Expletives and their allies. These include WE (Women of Expel), The Treehouse (LGBTQ+ Expletives), The Connection (a community of Expletives focused on mental wellbeing), and BOLD (Black Opportunities for Learning and Development).
Our BOLD ERG was excited to honor Black History Month in a particularly BOLD fashion (see what we did there?). Heading into February, we thought about the many things that bring the Black community together and showcase its beauty, which helped us identify the perfect vessel for education: music. From there, we determined our Black History Month 2023 theme would be An Introduction to Black Art through Music.
Throughout February, our BOLD community shared weekly Slack posts that educated our people on the impact of Black music throughout the world. These posts explored genres such as ragtime, blues, gospel, jazz, R&B, hip-hop, and reggaeton. These posts also painted a timeline that acknowledged music as one of the few possessions slaves brought with them to the Americas.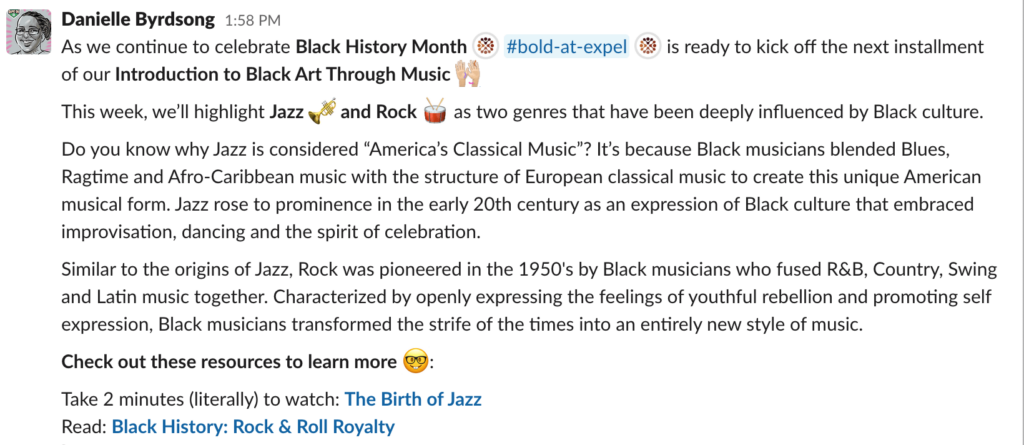 But the celebration didn't stop there. To further connect to our theme, we brought the education to life by hosting a live performance at Expel's interdimensional HQ by genre-bending Washington, D.C.-based duo April + VISTA. The performance was filled with lush, multidimensional sounds as the duo guided us through ancestral reflections through song. The performance was accompanied with a lunch from Maker's Union Pub for the People and sound equipment was provided by Zoney Sound—both Black-owned businesses—enabling us to lean into an all-around celebration of Blackness.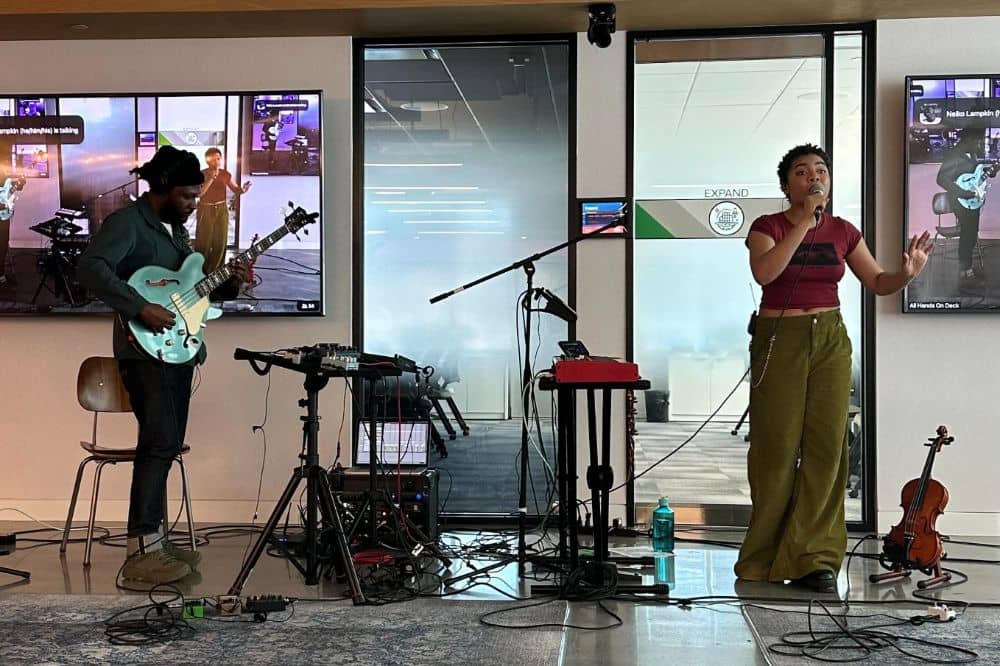 Still stunned by April + VISTA's performance, our journey then took us to the heart of Miami for our first-ever company kickoff (CKO), which brought together more than 400 Expletives to meet, learn, and plan for the year ahead.
Miami is known for its warm weather, great food, beautiful beaches, and most importantly its rich and vibrant culture. We knew Miami would provide a great backdrop to further explore Black impact and influence. To emphasize this, we brought in Miami-based, Ghana-born artist Nii Tei to DJ our welcome reception. Nii's set seamlessly blended house-, electronic, and disco-inspired sounds with African influences, creating a soundscape that reflected Black creativity and expression.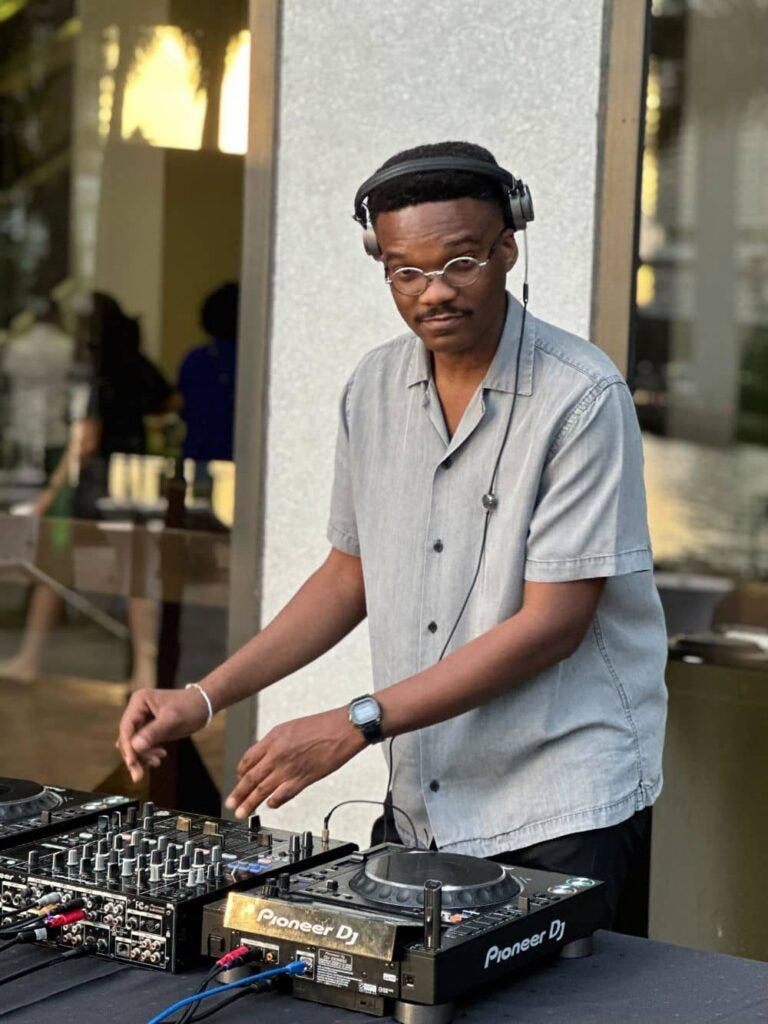 Having most Expletives in one place for CKO also presented an ideal opportunity for additional education about Black history in Miami, so our BOLD community collaborated to create an exhibit that highlighted the Black historical context of the city. The exhibit acknowledged the Black impact on places like Overtown (formerly known as Colored Town), as well as Little Havana—a place many Cuban Americans call home and has now expanded to include a large population of people from other parts of the Caribbean and Central America. We recognized iconic places like Little Haiti that boast rich French–Creole culture and also highlighted how important the Jewish community's alliance with Black racial equality activists in the late 1950s supported desegregation efforts.
Wow…what a month! And to add on to our celebration of Black impact, our Women of Expel (WE) and Treehouse ERGs shared their support by highlighting the intersectionality among our communities recognizing Black women and LGBTQ+ trail blazers such as Bell Hooks, Alice Ball, Marsha P. Johnson, and Gladys Bentley. As we carry the celebratory spirit into Women's History Month, we're excited for continued programming and educational opportunities.
We encourage you to check out our equity, inclusion, and diversity (EID) page to learn more about our ERGs and our approach to EID.