Our Product
Threat Hunting
Protect against the threats you didn't see coming.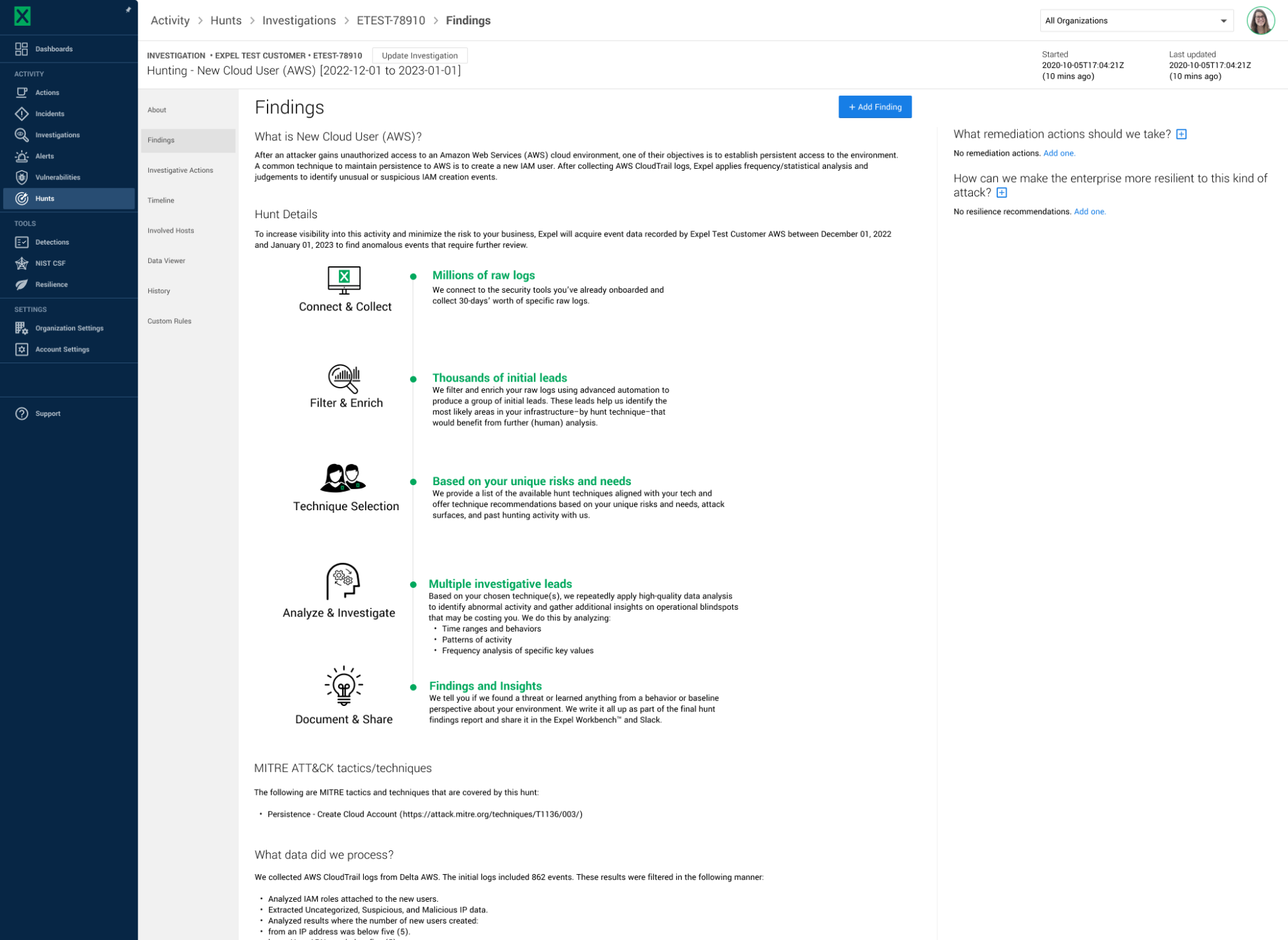 How we help
Proactive threat hunting to stay ahead of security risks
Elevate your hunting capabilities and optimize your security investments to more effectively protect your environment with Managed Detection and Response paired with Threat Hunting.
How Expel is different
Hunt across your entire environment—cloud, on-prem and SaaS
Integrate your tech into our security operations platform, Expel Workbench™, and we'll apply hunting techniques aligned to your unique risks. We hunt for unusual logins, suspicious patterns, abnormal user behaviors, and more, so you can shift your security strategy from reactive to proactive. When paired with our MDR service, you can protect your organization from existing threats and future vulnerabilities.
Connect to the security tools you already have
We integrate with your existing security tools and collect 30-days worth of specific raw logs.
Filter and enrich raw logs
Using automation in Expel Workbench™, we produce a group of initial leads that benefit from further hunting and analysis.
Hunt and analyze suspicious activity
We'll identify abnormal activity, gather insights on blindspots, and analyze time ranges, behaviors, activity patterns, and more.
Report and share threats
You'll be alerted if we find a threat or learn anything from a behavior or baseline perspective about your environment, and share all the details in a hunt findings report.
What you get
Threat Hunting
Hunting with the tools you've already invested in, whether it's on-prem, cloud, or SaaS
Hunt techniques aligned to your unique risks, spanning from indicators of compromise (IOC) to new cloud user hunts
Comprehensive hunt details show how we investigated, align to MITRE, and how the data was collected so you can improve and build resilience
Improved detection strategy based on our hypothesis where alerts are expected to be generated so you can close gaps
Clear recommendations on what to improve for better overall security posture