DOWNLOAD
Get your Personalized Expel MDR Value Brief
Complete the form to receive your personalized results, including a link to the Forrester Consulting Total Economic Impact™ (TEI) study commissioned by Expel.
Your personalized value brief includes:
 An personalized overview of the value Expel can bring to your organization*
 A direct link to "The Total Economic Impact™ of Expel" by Forrester Consulting which provides an analysis of benefits and costs and an in-depth look at the methodology used
 Access to additional resources to learn more about what it's like to work with Expel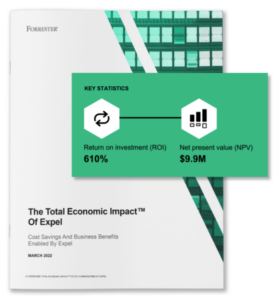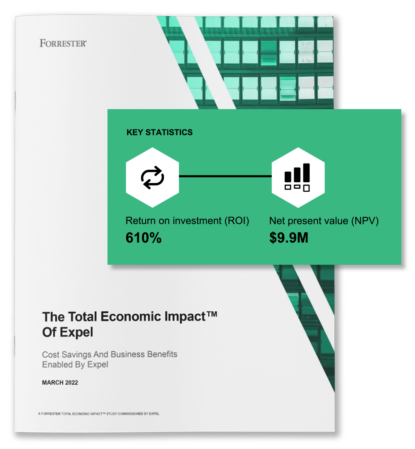 Download your estimated ROI tearsheet and get a copy of the Forrester Consulting TEI study
Please note: This page will provide results based on your selections on the value calculator. If you've not made your selections, go to the value calculator page.
*The underlying financial model for this ROI estimator has been commissioned by Expel and delivered by Forrester Consulting based on its Total Economic Impact™ methodology. Expel created this tool and Forrester has not verified it for accuracy or certified its results. Although great care has been taken to ensure the accuracy and completeness of the model used in this tool, Expel and Forrester are unable to accept any legal responsibility for any actions taken on the basis of the information contained herein. The tool is provided 'AS IS' and Expel and Forrester make no warranties of any kind.