Keeping track of Amazon Web Services (AWS) and its new services can be overwhelming. And on top of dealing with a tangled web of services and logs, triaging alerts can feel like you're playing an exhausting game of whack-a-mole.
Nodding your head in agreeance?
You aren't alone.
We've heard the same thing from many orgs, regardless of size and industry – wrangling cloud security signal isn't easy. To put it mildly. It can be time consuming, confusing and downright frustrating.
Wondering if you might need some help? Or want to know if there are opportunities to level up but not sure where to start? We got you.
Introducing Expel's interactive quiz to help you figure out if you're getting the most out of your Amazon Web Services (AWS) security signal.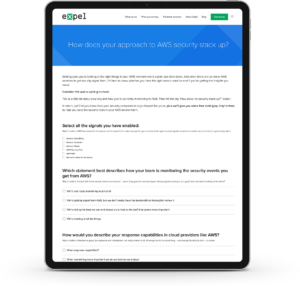 Answer a few short questions and we'll let you know how you compare to similar orgs. As a bonus we'll give you some tips and resources.
So whether you're just starting out or pretty sure you're killing the game – check out our quiz to make sure you're maximizing all available resources to secure your cloud.